Mission
Examples of our School Partners:
Our Educational Technology Partners:

Fostering Quality Schools was founded on one single premise: Student success. The dedicated team of school improvement experts at FQS has been leading school transformations for decades. They are committed to building systemic capacity for schools and districts with a clear equity approach to positively affect outcomes for culturally and linguistically diverse learners.

iSTEEP was founded to bring science-based practice to education. iSTEEP is particularly focused on screening, benchmarking, and diagnostic assessments that can be used independently or integrated into MTSS and other systems. The core foundation of iSTEEP technology is that assessment is more useful to the extent that it impacts instruction and student achievement. The iSTEEP model has a solid research base with multiple studies in the top peer-reviewed scholarly journals. iSTEEP provides an innovative and comprehensive suite of products for assessing, analyzing, progress monitoring, and next-generation technology. It provides powerful tools to assist schools in implementing programs designed to determine if students are on track and to accelerate their performance if they are below desired levels. Easy to use reports keep teachers and administrators informed in real-time.
Learning Ovations is an outcome delivery company that partners with school districts, charter, private school networks, and community organizations. Learning Ovations achieves transformative outcomes for children reading at grade level by the end of third grade. They provide an ESSA Strong Professional Support System for literacy educators. By aligning their technology, data, existing resource investments, and coaching, Learning Ovations support all teachers' ability to deliver daily differentiated reading instruction.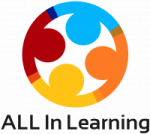 ALL In Learning helps teachers easily engage every student frequently and assess formatively to identify those who need support or enrichment. Leaders can see campus progress and instant heat maps to help close gaps quickly. Teams save substantial time while tracking campus performance and student growth by standard.
Coaching Technology Survey
Interested in seeing how other districts are using instructional coaches? Complete our coaching technology survey and review available responses!
Needs Assessment
Want to have an informed conversation with our research experts based on your needs? Complete our needs assessment and we'll be in touch soon!

ReadyCoach was developed, in part, by U.S. Department of Education, Office of Special Education Programs (OSEP) grant No. H327S170020. The views expressed herein do not necessarily represent the positions or policies of the U.S. Department of Education. No official endorsement by the U.S. Department of Education of any product, commodity, service, or enterprise mentioned on this website is intended or should be inferred.